"It's so scary!" the girl on the ledge kept telling us in this apologetic tone, probably worried that we were getting impatient for our turn. We kept reassuring her that it was OK--who were we to judge? For all we knew, we would panic when our moment came to exhibit that we were at least one part crazy.

We were at
AJ Hackett
in Kuta, Bali, standing on a platform, awaiting our turn to jump. When we were figuring out our honeymoon itinerary, we were dead-set on making a tandem bungee jump a part of our trip. It was $185 for a few adrenalin-pumping seconds, but what the heck!
While we were waiting to get strapped onto the bungee cords, Hamil and I discussed our tactic: No hesitation. Just do it. "The longer you wait, the harder it's gonna be," he reasoned.

So after the girl jumped, we made our way to the prep area, where they double checked our weight--we had to step on a scale before heading up to the ledge, and our weights were written in bold black marker on the backs of our hands. "It's like adding insult to...to..." I began, when I was recounting the experience to a friend. "To possible injury?" he offered. Yeah, it wasn't enough that we were risking peeing in our pants while jumping off a platform 45 meters from the ground, but I also had to be reminded that I'd gained six kilos since being a cheerleader! Sigh.

We sat on the mat, where the crew proceeded to wrap our ankles in folded towels, and strap on the harnesses and bungee cords. They explained that one arm should go behind the partner's back, holding tightly onto the harness on his or her side. The other arm was free--to flail, hug, or do a fist pump while we plummeted.

As we inched our way to the ledge, Hamil let out a swear word. And if my heart was pounding even before we went up the tower, now it was pounding so hard that I didn't even hear the music blaring over the loudspeaker. We heard the crew do the countdown:

"Five..."

"Four..."

"Three..."

"Two..."

"One!"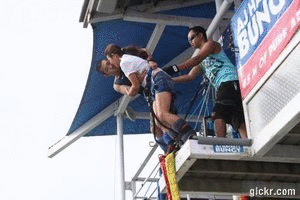 AAAAAHHH!!!
That was INSANE!
The plan was for me and Hamil to kiss on our way down, but if you look at that photo, we're kissing while we're on the ledge. The minute we step into nothingness, I've still got my lips puckered, but Hamil has started screaming! (He only screamed once; I, on the other hand, screamed at every drop, recoil, and subsequent drop!)

Money shot

I can't describe the fear that grips your heart once you feel gravity's awesome power, and see the ground and water below rushing at you in a second. Thank goodness I peed beforehand. (OK TMI, but you seriously should go to the bathroom before you attempt this!)
Once it was all over, we lay on a mattress as the straps were being removed. Only then did I notice that I was still gripping tightly onto Hamil's waist harness. And only then did I realize that a very appropriate song was playing in the background: Aerosmith's "Crazy"!
In the words of Git Fresh, I think I need a cigarette. And I don't even smoke.

For our efforts, we got a shirt, a certificate...
It's a Certificate of Borderline Insanity. Seriously, that's what it says!

...and a kiss that's one for the books!